Current Supply
We currently have a wait list for our shrimp. To join the wait list or have questions answered please call us at (573) 646-3409 or fill out a contact form. If you fill out a contact form, be sure to include your contact information and how many pounds of shrimp you are interested in purchasing.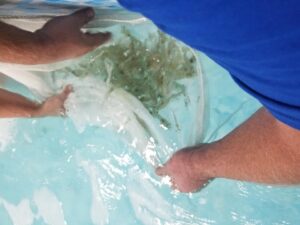 Pricing
| Product | Cost |
| --- | --- |
| Shrimp 16-20 Count | $22.00/lb. + tax |
| Shrimp 20-22 Count | $20.00/lb. + tax |
| Fish Bait (upon supply) | $6.00/lb. + tax |
| Insulated Bags | $7.00 + tax |
| Informational Tours | $5.00/person |
| School Field Trips/Bus Load Tours | Contact for Pricing |
Our tours allow for you to get a behind the scenes look of the farm. You will learn how we raise our shrimp, and why we have chose to raise them in a sustainable and antibiotic/hormone free environment. Tours will last between 15 to 20 minutes and allow for you to touch and hold the shrimp!
*Purchasing products through our online store will be available soon.*
Gift Certificates Available!