Basic Cooking Tips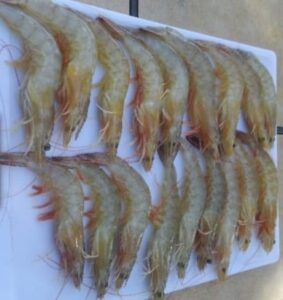 Shrimp are good with heads on for two (2) days in the refrigerator.
Shrimp are good for an additional two (2) days with their heads off.
If you want to freeze the shrimp, remove the head first!
Cooking the shrimp with the heads on adds a great, sweet flavor to the meat.
Deveining and peeling the shell isn't really necessary!
Shrimp will not be alive by the time you get home.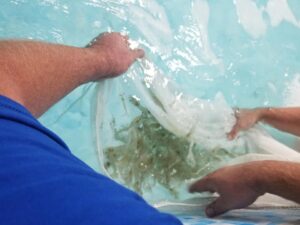 *Photos of cooked shrimp are courtesy of Triple J Farms in St. Louis, Missouri. To visit their website click on any of the cooked shrimp images.*
Preparing Shrimp
Rinse them off

Cook with head and shell on for the best flavor

Remove the head easily after cooking, and peel if you wish. Some people the shells and all!
Cooking Shrimp
SV Shrimp Farm, LLC shrimp are easy to cook, but they are also easy to OVERCOOK!
Boiled: drop them in already boiling water until one or two shrimp float to the top; then remove them all.  Usually less than five minutes.

Grilled or Sauteed: 2-3 minutes per side
Remember: it is not necessary to devein our shrimp as they are grown in clean tanks!